The perfect corporate Visa prepaid card
Drive sales, recognise staff, reward customers and increase brand loyalty.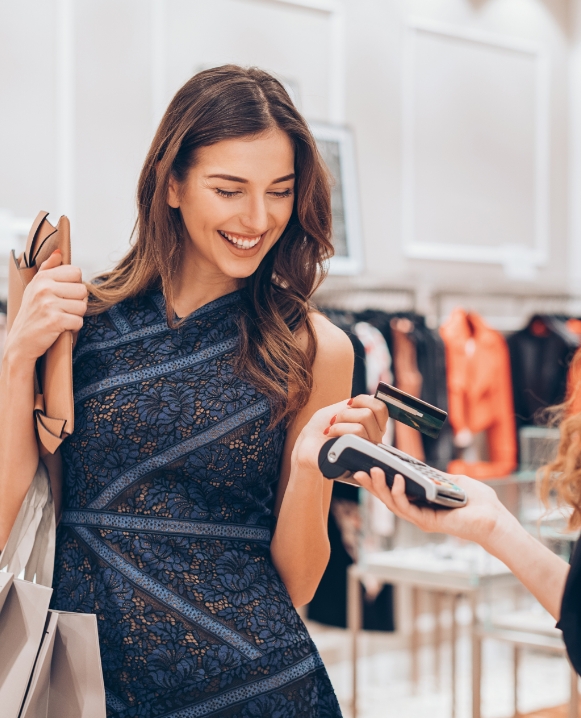 Reward them with anything they want.
When you hand out corporate rewards, incentives and gifts to important people you want to make it memorable.
That's why choosing iChoose Visa prepaid cards for your awards, gifts, recognition and incentive programs is the perfect solution for your business. With choice packed into every card and fully branded options, your iChoose cards will become little pocket billboards for your brand every time a cardholder opens their wallet or spends their customer loyalty program funds on their branded gift card.
iChoose has been the trusted leader of corporate Visa prepaid products across the ANZ markets since 2003. And, as the only independent partner in both markets we are continually driving new innovations and product development in prepaid reward card solutions.
The iChoose+ range gives your card holders greater choice and higher limits and are easier for you to manage. We offer fully branded cards and unbranded cards with direct send via post to your intended recipient. iChoose+ is available in single load Visa prepaid cards and reloadable Visa prepaid cards.
iChoose gift cards are just like store cards, only better. For those that love the feeling of instant recognition, handing out these Visa gift cards is perfect to help you reach your marketing and performance goals.
At the heart of iChoose prepaid cards is choice! Your cardholders can spend their hard-earned rewards anywhere they want and on anything they like. No restrictions!
iChoose is more than just a card company, powered by one of New Zealand's leading strategic loyalty marketing agencies. We can assist with unique initiatives, creative designs or create successful marketing ideas for your cashback or rewards program designed for the New Zealand market and beyond.
If you are looking for increase your customer base in the kiwi market choose iChoose+ reward cards for your next incentive and rewards campaign.
Compare Card Types & Options
| | iChoose Gift Card | iChoose+ Single Load | iChoose+ Reloadable |
| --- | --- | --- | --- |
| Activated life | 1 or 2 years | 1 or 2 years | 1 or 2 years |
| Create your own fully branded cards | | | |
| Reloadable | | | |
| Setup fee | No, unless branded | No, unless branded | No, unless branded |
| No minimum order | | | |
| Large volume discount | Yes, if branded | Yes, if branded | Yes, if branded |
| Includes iChoose card carrier | | | |
| Delivery Time | 10-14 days | 10-14 days | 10-14 days |
| Secure postal delivery | Bulk Ship to You | Direct to Cardholder | Direct to Cardholder |
| Secure activation | In bulk – online | By cardholder – online | Per cardholder – online |
| Card limit | $1000.00 | $4999.99 | $4999.99; |
| Pay-wave Tap'n'Go | | | |
| | Order Now | iChoose+ Single Load | iChoose+ Reloadable |
Check out different ways to use iChoose Visa Prepaid Cards
Supercharge your cashback programs
iChoose cashback offers higher ROI on campaign budgets than traditional point of sale discounting campaigns.
Enjoy end-to-end management of your cashback program or rewards card in the kiwi market via our easy-to-use cashback platform, with full reporting on customer activity and behaviour.
iChoose offers everything you need to run a successful incentive and reward program, including promotion and communication of your cashback program to your customers and partners.
Our Visa prepaid gift cards are the perfect solution to drive and increase sales, nudge customers along, create new leads, drive retention, and initiate repurchases and renewals for your brand.
We have a card to suit any need or budget. Choose from fully branded, co-branded and iChoose branded options. To get started, talk to one of our B2B incentive experts today.
Talk to our B2B incentive experts
Benefits to your business
Trusted
Strong association with VISA
Secure
Card activated by the recipient or you
Promotion
Pocket billboard for your brand
Long-Lasting
12-month or 24 month card validity periods
Cost-Effective
Reduced administration, time and costs
Benefits to recipients
Unlimited Choice
28 million VISA merchants worldwide
Branded Cash Is King
Ultimate reward flexibility
It's Personal
Cardholder name printed on the card
Secure & Supported
24/7 online and phone support
Convenient
Shop online, in-store, over the phone